From the very beginning, the company's goal has been to anticipate the trends of the digital scenario and to understand the changes and opportunities in the organisational, cultural and political sectors.
With this in mind, we create our reports and in-depth research on the topics of digital innovation and the evolution of the electronic market in Italy. They offer specific information on the digital development of various market sectors in Italy and in the world, and allow companies to evaluate the context in which they operate, based on successful cases and on the knowledge of real implementation paths.
In 2012 the Casaleggio Associati Editore internal section was created. It contributed to the spread of the digital culture through publications, reports and in-depth analysis, seminars, articles and videos such as "Prometeus – The media revolution" e "Gaia – The future of polytics", an experimental video on the theories of a future political scenario where the web plays a fundamental role.
In 2005 Casaleggio Associati takes over the management of Beppe Grillo's blog, taking part in the online world's favourite union and development dynamics, leading to the foundation and political journey of Movimento 5 Stelle.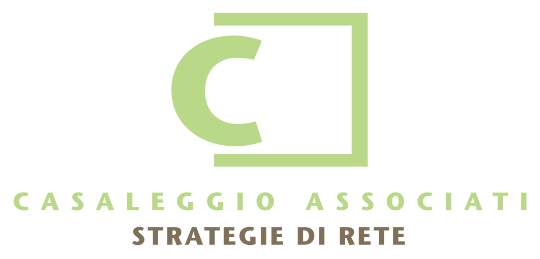 Casaleggio Associati Logo, 2004
Casaleggio Associati Logo, 2020
Today, the specific analysis skills and the long-standing experience in various market fields make us a solid and reliable partner for companies who want to renovate their internal business model.